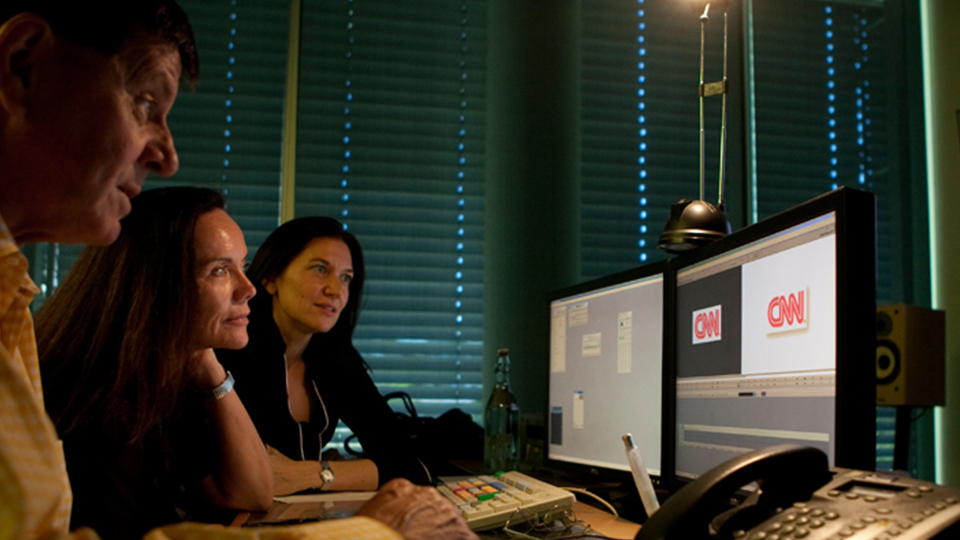 Some of Australia's most experienced producers have joined the television production team of the Asia Pacific Screen Awards (APSA). Veteran journalist Kerry Lonergan has been appointed Senior Producer along with former colleague Karen Berkman, both long-term reporters and producers for the Australian Broadcasting Corporation.
Lonergan and Berkman will lead the team for the Scene by Scene documentary programs for CNN International about the films and filmmakers of Asia-Pacific.
The team includes Assistant Producer Kimberley Sakzewski, also ex-ABC, and Associate Producer, Maxine Williamson, who has over 15 years experience in film distribution and exhibition.
APSA Productions will travel next week to the Middle East to commence the first instalment of interviews for Scene by Scene 2009.
The Scene by Scene programs are screened by CNN International to more than 249 million households and hotel rooms in more than 200 countries and territories, providing Asia-Pacific filmmakers with unprecedented global television coverage. Scene by Scene and CNN's monthly movie program, The Screening Room, include coverage of the annual Asia Pacific Screen Awards ceremony held in November on Australia's Gold Coast.
"It is important that we have a major award to acclaim outstanding films and film makers, but our key point of difference to other international awards ceremonies is that we produce a range of stories about the work and personalities of the region's film industry",  said APSA Chairman, Des Power.
Previous filmmakers profiled on Scene by Scene include Egyptian screen legend Omar Sharif, Hong Kong filmmaker John Woo (on the set of the $65million epic, Red Cliff), royal filmmaker HRH Prince Chatri of Thailand, Indian director Ashutosh Gowariker and actress Shabana Azmi, renowned Russian producer Alexander Rodnyansky, Palestinian filmmaker Annemarie Jacir, Israeli director Eran Riklis and Australian directors Bruce Beresford and Baz Luhrmann.
Kerry Lonergan has held numerous senior managerial and producing positions in radio and television news and current affairs.
Karen Berkman is an accomplished documentary and television producer whose producing credits include programs for National Geographic Channels International, Animal Planet, ABC Television, Film Australia and SBS. Prior to her producing roles, Karen worked extensively as a news and current affairs reporter.
Kimberley Sakzewski commenced her career with the Pacific Film and Television Commission and has since held various on and off camera positions on productions for the Australian Broadcasting Corporation and Channel Four in London.
Maxine Williamson is a specialist in independent and Asia-Pacific film with more than fifteen years experience in the film exhibition and distribution industries. Maxine also continues in her role as Associate Producer, Awards Competition, of the Asia Pacific Screen Awards.
Post production for Scene by Scene will continue to be executed at world-class post house Cutting Edge, which is headquartered in Brisbane, Australia.
Scene by Scene will screen globally in the lead up to the 2009 Asia Pacific Screen Awards Ceremony on November 26. The broadcast dates are:
Episode 1:       October 3–5, 2009
Episode 2:       October 10–12, 2009
Episode 3:       October 17–19, 2009
Episode 4:       October 31–November 2, 2009
2008 Scene by Scene Clips Online
Segments from Scene by Scene 2008 are available to view online featuring interviews and exclusive on set access with acclaimed filmmakers from the region including Eran Riklis (Israel), Ashutosh Gowariker (India) and 2008 Jury President Bruce Beresford (Australia).
Episode One: New Zealand / Pakistan / Thailand
Episode Two: Russian Federation / Jordan / Palestinian Territories
Episode Three: Israel / India
Episode Four: People's Republic of China / Australia
Back to news