Friday, 30 November 2018
•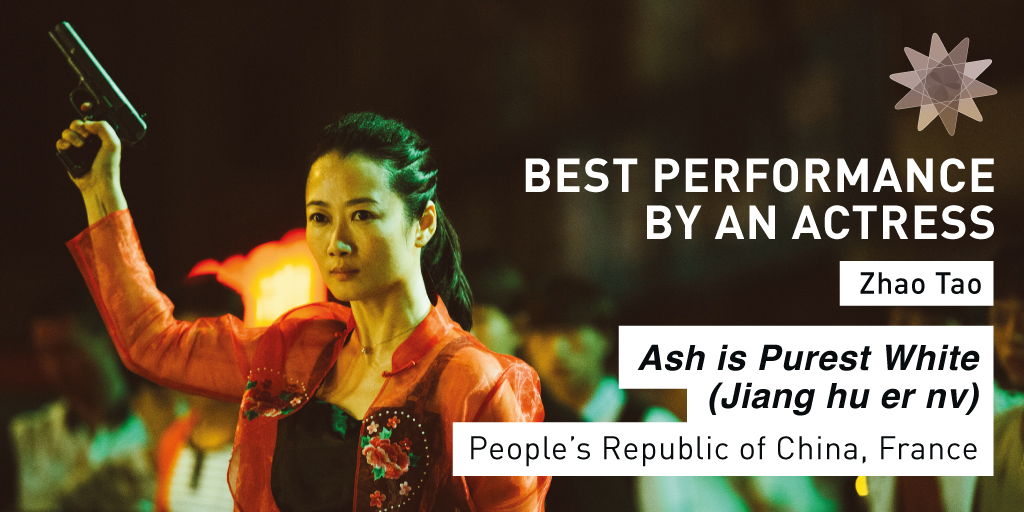 Zhao Tao was tonight awarded Best Performance by an Actress for Ash is Purest White (Jiang hu er nv) (People's Republic of China, France), at the 12th Asia Pacific Screen Awards (APSA), the region's highest accolade in film. The award was accepted by the film's producer Shozo Ichiyama at the glittering APSA ceremony in Brisbane, Australia.
APSA International Jury President, Russian producer of 2014 APSA Best Feature Film winner Leviathan, Alexander Rodnyansky said "We have had the great fortune to be presented with a unique line up of films that represent the different countries, cultures and talents of our region. It's a huge and very rare opportunity to learn and understand so much about other people's lives and I have discovered new worlds by watching them."
APSA and the Sun Yat-Sen Cultural Foundation launched a new script development fund, the APSA Academy Sun Yat-Sen Bo Ai Film Fund. Exclusive to APSA Academy members, the Fund supports a film project which aligns with the Foundation's ideals, to encourage and support film projects which, apart from demonstrating cinematic excellence, also embody the 'Bo Ai' (Universal Compassion) spirit, tolerance and/or inspire positive changes and human values.
The inaugural recipient, announced by Secretary-General of the Sun Yat-Sen Cultural Foundation, Alexandra Sun, is director Feras Fayyad (Syria) for feature documentary The Cave. Fayyad was the winner of the APSA for Best Documentary Feature Film in 2017 for Last Men in Aleppo, which was also nominated for an Academy Award®.
In launching the Fund, Alexandra Sun said "The Sun Yat-Sen Cultural Foundation is most pleased to collaborate with APSA and its distinguished Academy members to encourage production of films that embody compassionate values and tolerance, at a time when such positive human values are of utmost importance and when the power of the media and films to inspire positive changes can also not be underestimated."
Chair of the Asia Pacific Screen Awards and its Academy, Michael Hawkins said "APSA welcomes this important partnership with such a prestigious cultural leader as the Sun Yat-Sen Cultural Foundation to provide further streams of funding and development support to our APSA Academy members. This grant also aligns with our aim to promote and celebrate cultural diversity of the world's most culturally rich region."
The successful project was determined by a panel chaired by Alexandra Sun together with APSA Founding Chairman Des Power (Australia) and six-time APSA Nominations Council member Philip Cheah (Singapore), who is also a NETPAC member and advisor for the Griffith Film School's Asia Pacific Screen Lab.
The Asia Pacific Screen Awards, the region's highest accolade in film, honour cinematic excellence and the cultural diversity of the world's fastest-growing film region; comprising 70 countries and areas, 4.5 billion people and responsible for half of the world's film output. In 2018, 46 films from 22 countries and areas of the Asia Pacific region received APSA nominations, including the first nomination for a film from Uzbekistan.
赵涛荣摘第12届亚太电影大奖
 "最佳女演员"桂冠
澳大利亚布里斯班:赵涛今晚在第12届亚太电影大奖(APSA)颁奖典礼上凭借影片《江湖儿女》(中华人民共和国、法国)荣获"最佳女演员"奖。该奖项是亚太地区电影界的最高荣誉奖。站在澳大利亚布里斯班金光闪闪的APSA颁奖典礼上领取该奖的是这部影片的制片人市山尚三。
APSA国际评委会主席及2014年APSA最佳故事片《利维坦》的俄罗斯制片人Alexander Rodnyansky表示:"我们非常有幸看到了代表我们地区不同的国家、文化和人才所呈现的一系列独具特色的影片。这是一个极大而且很难得的机会,可以学习和了解其他民族人们的生活,观看这些影片也让我发现了新的世界。"
APSA与孙中山文化基金会推出了一项新剧本开发基金,即亚太电影学会孙中山博爱电影基金。该基金只提供给亚太电影学会成员,旨在支持符合该基金会理念的电影项目,以鼓励和支持那些除了能展示电影的卓越之处外,还体现了"博爱"精神和宽容,并且/或能激发积极变化和人类价值观的电影项目。
该基金的首届获得者由孙中山文化基金会秘书长孙雅丽宣布,获得者是专题纪录片《洞穴》(The Cave)的导演Feras Fayyad(叙利亚)。Fayyad曾在2017年凭借影片《终守阿勒波》获得APSA最佳纪录片奖,该影片还获得过奥斯卡奖®提名。
在启动该基金时,孙雅丽表示:"孙中山文化基金会很高兴能与APSA及其杰出的学会成员合作,来鼓励那些体现同情心和宽容精神的电影制作,尤其是在当今这些积极的人类价值观变得极为重要,而且通过媒体和电影的力量来激发积极变化不容小觑的时刻。"
亚太电影大奖及电影学会主席Michael Hawkins表示,"APSA欢迎与如此久负盛名的"孙中山文化基金会"建立这一重要合作伙伴关系,为亚太电影学会成员提供更多资金来源和影片开发支持。该补助金也与我们积极促进和弘扬全球文化最丰富地区的文化多样性的目标不谋而合。"
获胜项目由评委会来决定,该评委会由孙雅丽担任主席,参与评选的还有APSA创始主席Des Power(澳大利亚)以及六届APSA提名委员会成员、亚太电影促进联盟(NETPAC)成员及格里菲斯大学电影学院亚太电影实验室顾问谢福龙(新加坡)。
亚太电影大奖作为亚太地区电影界最高荣誉奖,主要表彰全球电影业发展最迅速地区的杰出电影成就及文化多样性。该地区覆盖70个国家和地区、45亿人口,制作了全球一半的电影。2018年共有来自亚太地区22个国家和地区的46部电影获得APSA提名,包括首次乌兹别克斯坦电影提名。

Back to news