Thursday, 2 December 2010
•
MPA APSA Film Fund announces $100,000 in Script Development grants for four Asia Pacific filmmakers – Lee Chang-dong, Sergey Dvortsevoy, Asghar Farhadi and Peng Tao.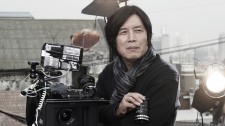 Four script development grants totalling $US100,000 to filmmakers from the Asia Pacific region were announced today at the Asia Pacific Screen Awards.
The grants are the first to be offered by the MPA APSA Academy Film Fund, a new initiative of the Asia Pacific Screen Awards (APSA) and the Motion Picture Association (MPA) which is available exclusively to APSA Academy members.
Four filmmakers will each receive $US25,000 to be allocated to the script development of new feature film projects.
The recipients of the inaugural MPA APSA Academy Film Fund are:
Korean writer/director Lee Chang-dong, for Memories of Blue Hill Club (Memories of Chung-gu Hoe). Lee Chang-don's previous films include the APSA and Cannes Film Festival prize winners Secret Sunshine (Miryang) and Poetry (Shi). At the 2010 APSA Ceremony this evening, Poetry (Shi) won the Achievement in Directing (Lee Chang-dong) and Best Performance by an Actress (Yun Jung-hee) awards. Secret Sunshine (Miryang) was named Best Feature Film at APSA in 2007 and also took out the Best Performance by an Actress award that year.
Peng Tao, from the People's Republic of China, for Straw Man (Dao Cao Ren). Peng Tao's previous film Little Moth (Xue Chan) was nominated for an APSA in 2007 for Best Achievement in Directing.
Asghar Farhadi (Islamic Republic of Iran) for Nadar and Simin: A Separation. Asghar Farhadi's film About Elly (Darbareye Elly) won last year's APSA for Best Screenplay and the Jury Grand Prize.
Sergey Dvortsevoy, from Kazakhstan, for Ayka (Aйка). Sergey, who is based in Russia, is a member of the APSA 2010 International Jury and writer/director of the APSA Best Feature Film in 2008, Tulpan.
More than 87 submissions from across Asia Pacific were received for the inaugural MPA APSA Academy Film Fund. Submissions were assessed by an industry panel of three, headed by Ronin Films Managing Director and former APSA International Jury member Andrew Pike. Andrew was joined by Korean producer Hanna Lee, an APSA-Award winning producer for the 2007 Best Feature Film Secret Sunshine (Miryang) and a former APSA Jury member, and Chinese Australian director Pauline Chan, best known for her feature film Traps and director of the new Australian/Chinese co-production Mei Mei, currently in post-production.
Andrew Pike highlighted the importance of the Fund for filmmakers of the region: "The Fund significantly extends the work of APSA into a very exciting new dimension; APSA is now not just offering a higher profile to the work of filmmakers in the region, it's actually helping them make their films possible by providing financial support and recognition at a crucial part of the production phase – that is, the development stage. A project in development is very vulnerable and endorsement at this crucial stage is critical."
The assessment panel each praised the quality of the submissions.
Andrew Pike said: "A comment I'd like make about all of the 87 entries, is that there was a very high proportion of original screenplays. Most of the applications were original screenplays and I think that's very exciting in the Asia Pacific region."

Pauline Chan said: "Some of the people who we selected as recipients already have international recognition and have made successful films, but we were also interested in looking at people who are just starting out or who show promising talent but need the support and nurturing to do their second or third project."

Referring specifically to Peng Tao, she said: "I really love that his work is able to depart from the traditional structure of Chinese filmmaking, which we, in the west are quite familiar with. To me he represents a new wave and a new voice in a really refined, restrained culture. He is able to find a traditional angle, a Chinese tradition, but he is able to bring the tradition into a new light so it's not trapped and it surprises you."

About Asghar Farhadi's film, Nadar and Simin: A Separation, Pauline commented: "Asghar Farhadi is also a writer and director. His film is a beautiful human study of a very normal everyday life, with people in a region who are being challenged all the time by issues social, geographical and financial. While I am not familiar with Iranian culture, as an outsider I find it fascinating and very touching…. his work is beautiful."

Panel member Hanna Lee spoke about Sergey Dvortsevoy and his project Ayka (Aйка): "What I really like about Sergey is that he observes his subjects, but he is not pulling out in a really detached way, he is observing them with really caring emotions that are not over dramatized. That was one of the things I really loved about Tulpan and I can see that in again in Ayka. He treats his subject matter and his characters with such sincerity and he also brings his documentary background into the making of his feature films."

About Lee Chang-dong's Memories of the Blue Hill Club, Andrew Pike said: "This is a superbly written treatment, and I think it will develop into a superbly written feature film. It has a very strong foundation in reality; in this case, historical literature provided inspiration for what I believe will be a very moving powerful film."
At the launch of the MPA APSA Film Fund earlier this year, President and Managing Director MPA Asia Pacific, Mike Ellis said: "The APSAs have developed a strong reputation as the most coveted award in the region and the benefits of winning an award of this calibre are clear. This fund makes participation in the APSAs even more valuable for the professional opportunities it will open up to its Academy members. Our support of the MPA APSA Academy Film Fund is emblematic of the MPA's commitment to promoting and protecting the wonderful work of the filmmakers in this region."
An international cultural initiative of the Queensland Government, Australia, APSA honours the works of filmmakers across a region covering 70 countries, one third of the earth and half the world's film output. Films are judged on cinematic excellence and the way in which they attest to their cultural origins.
The MPA APSA Academy Film Fund is supported by the Motion Picture Association, representing the interests of major motion picture companies in the global marketplace. The MPA promotes and protects its member companies' intellectual property rights and conducts education outreach programs to highlight to movie fans around the world the importance of content protection. These activities have helped to transform entire markets benefiting everyone in the film industry, both foreign and local filmmakers. It's member companies include: Paramount Pictures Corporation, Sony Pictures Entertainment Inc, Twentieth Century Fox Film Corporation, Universal City Studios LLLP, The Walt Disney Studios, and Warner Bros. Entertainment Inc. For more information about the MPA, please visit www.mpa-i.org.
Led by Patron Jack Thompson, the APSA Academy is a growing body of the region's most influential names in film including past APSA Nominees, International Jury and Nominations Council members.
At the 2010 Awards Ceremony this evening, Tangshan dadizheng (Aftershock), from the People's Republic of China, was named Best Feature Film. Thirty-one films from 15 countries and areas received nominations in this year's Awards. Korea's Lee Chang-dong won the Achievement in Directing Award for Shi (Poetry), with the Best Performance by an Actress award going to the star of the film, Yun Jung-hee. Chinese actor Chen Daoming received the Best Performance by an Actor award for Tangshan dadizheng (Aftershock), which is the highest grossing domestic film of all time at the Chinese box office.
Back to news