Thursday, 5 February 2015
•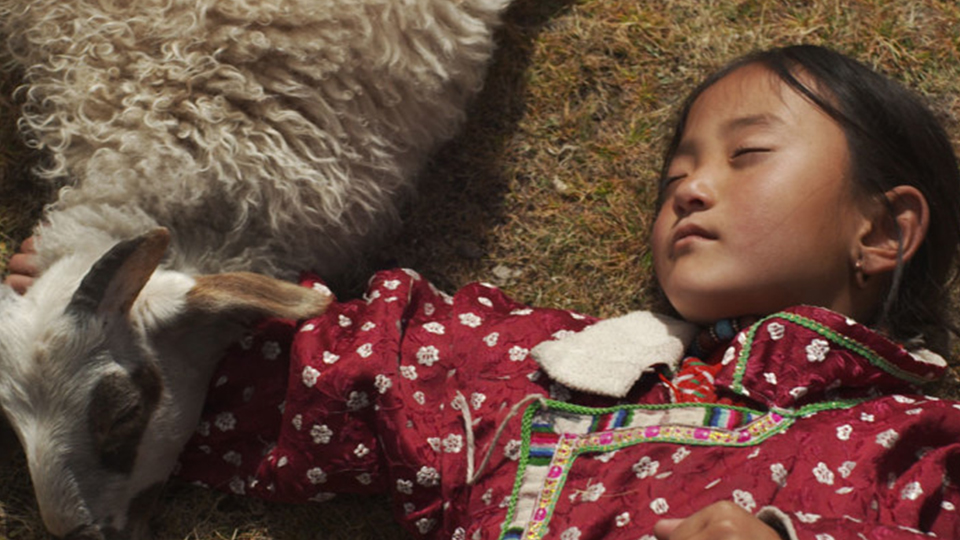 The APSA Academy Children's Film Fund is riding a wave of success, with news the first completed film River, will have its world premiere at the prestigious 65th Berlin International Film Festival next week.
Written and directed by APSA Academy member, Tibetan filmmaker Songtaijia (Sonthar Gyal), Gtsngbo (River, People's Republic of China), will premiere in the festival's Generation Kplus competition.
Songtaijia was one of the inaugural winners of the fund in 2011. River was shot over a three-year period, capturing all four seasons and is the moving story of a young girl on the Tibetan Steppe who escapes her family troubles by tenderly caring for an orphaned lamb. The film unfolds entirely from the perspective of the young girl.
Brisbane-based Tibetan award winning international musician/composer Tenzin Choegyal, met Songtaijia at the 2011 APSAs where Choegyal performed his original compositions during the Ceremony. Choegyal went on to contribute a composition to the soundtrack of the film, providing further proof of the success of APSA's aim of encouraging collaboration between artists in the region.
Songtaijia became a member of the APSA Academy when he was nominated for Achievement in Cinematography in 2011 APSAs for Khyi Rgan (Old Dog).
Born in the Tibetan region of Amdo, he grew up among shepherds in Qinghai Province in China. He trained in the traditional Buddhist painting technique 'thangkhas' and studied at Beijing Film Academy before becoming a prominent member of the first generation of Tibetan filmmakers. His 2011 directing debut, The Sun Beaten Path, premiered at Locarno and won numerous awards including at Vancouver, London, and Hong Kong film festivals.
The APSA Academy Children's Film Fund supports projects at script development stage that carry positive, life-affirming messages specifically for and about children of Asia Pacific and is offered annually exclusively for APSA Academy members. The fund was established in 2011 in collaboration with APSA Academy member and producer Butch Jimenez and his Manila-based production company 4 Boys Films.
"I am tremendously proud that the fund can contribute to the production of this film," Mr Jimenez said.
"River competing in Berlin brings to reality my own personal vision of sharing positive values and the unique culture of our region through the eyes of children using the power of film."
APSA Chairman Michael Hawkins said the APSA Academy fund was an investment in a new generation of stories from the Asia Pacific region.
"It is encouraging to see another APSA film fund project make its debut at the Berlinale, following in the footsteps of the MPA APSA Academy Film Fund recipient and Golden Berlin Bear winner A Separation by Asghar Farhadi," Mr Hawkins said.
The River premiere is the latest in a wave of international success for APSA Academy Film Fund projects, building on the growing reputation and standing of the academy in the film industry.
Shawkat Amin Korki recently won the UNESCO Award at the 8th Annual APSAs and Best Film from the Arab World during the Abu Dhabi Film Festival for his project, Memories on Stone.
Maryam Ebrahimi's project, No Burqas Behind Bars, recently won an international Emmy Award and was nominated in the 7th Annual APSAs for Best Documentary Feature Film. Both projects received MPA APSA Academy Film Fund grants in 2011.
Past APSA Academy Children's Film Fund grant recipients are:
2011
Sonthar Gyal (People's Republic of China/Tibet)
Garin Nugroho (Indonesia)
2012
Nan Achnas (Indonesia)
Ainsley Gardiner (New Zealand)
2013
Sudheer Palsane (India)
Kath Shelper (Australia)
2014
Andrew Pike (Australia)
Shilpa Ranade (India)
APSA looks forward to the completion of these projects.
The Asia Pacific Screen Awards is an international cultural program driven by Brisbane City Council through Brisbane Marketing proudly presented by Treasury Casino and Hotel in a unique collaboration with Paris-based UNESCO and FIAPF-International Federation of Film Producers Associations, recognising and promoting cinematic excellence and cultural diversity of the world's fastest-growing film region: comprising 70 countries and areas, 4.5 billion people, and responsible for half of the world's film output. In 2014, 36 films from 21 Asia Pacific countries received award nominations.
The 9th Annual Asia Pacific Screen Awards will be held at the iconic Brisbane City Hall on Thursday, 26 November 2015.
Back to news