Wednesday, 10 June 2015
•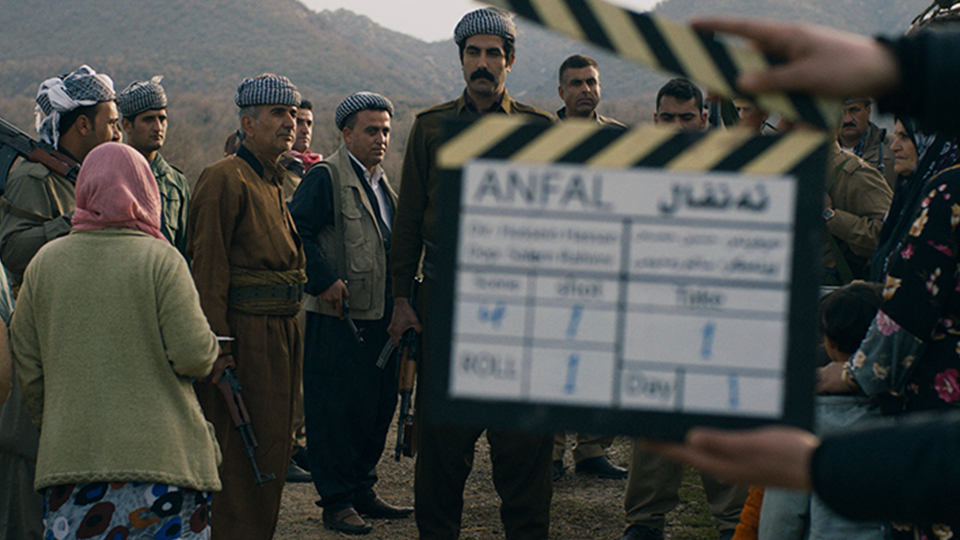 APSA Winning Film Screens At Unesco Convention In Paris
First 2015 Jury Members Announced
Paris, France: The 8th Asia Pacific Screen Awards (APSA) 2014 UNESCO Award winning film, Memories on Stone(Bîranînên Li Ser Kevirî) from Iraqi Kurdistan/Germany was screened before an international audience in the main auditorium at the world headquarters of United Nations Educational, Scientific and Cultural Organisation (UNESCO) in Paris on June 10.
This unprecedented cinematic event further strengthens the longstanding relationship between APSA and UNESCO and their shared common goals to promote diversity of cultural expression and raise awareness of the value of culture at local, national and international levels.
The Paris screening took place during the annual conference of States Parties to UNESCO's 2015 Convention on the Protection and Promotion of the Diversity of Cultural Expressions, which coincides with the treaty's 10th anniversary.
The film's award-winning Iraqi-Kurdish writer/director, Shawkat Amin Korki, writer/producer Mehmet Aktaş, and Abbas Ghazali, also a Member of Parliament in Kurdistan, presented the film and participated in a Q&A before representatives from around the world, APSA Academy members including APSA Executive Chairman, Michael Hawkins and 2014 APSA International Jury member, Palestinian writer/director/actress Hiam Abbass.
Mr Hawkins outlined the unique collaboration between the two organisations since APSAs inception including the honour of acting under the auspices of UNESCO and the important APSA UNESCO Award which promotes and preserves cinematic excellence and cultural diversity of film in the Asia-Pacific region.
"As APSA enters its ninth year and UNESCO celebrates the tenth anniversary of this convention, it is timely to join together for a special gala screening of the most recent film honoured by our organisations," said Mr Hawkins.
"Memories on Stone, like previous winners, is not only an exceptional film but is also testament to the courage of filmmakers who take their often-controversial stories to the big screen without the support of big studios or government film agencies."
Mr Hawkins also took the opportunity to announce the first Jury appointments for the 9th Asia Pacific Screen Awards.
"It is my pleasure to announce Negar Javaherian, acclaimed Iranian actress and star of the APSA UNESCO Award winning film The Painting Pool (2013), will be a member of the 2015 International Jury, while filmmaker Shawkat Amin Korki has been appointed as Chair of the APSA Youth Animation and Documentary International Jury for 2015," he said.
Shawkat Amin Korki was the first representative from Iraqi Kurdistan nominated for an APSA for his debut film Crossing the Dust (2007). In 2011 he was a recipient of the MPA APSA Academy Film Fund, a financial bursary supporting the script development of Memories on Stone, which has won multiple international awards since completion.
Brisbane Lord Mayor Graham Quirk was delighted at the news the former APSA winning film and filmmaker had been recognised during the 2015 UNESCO conference.
"This latest accolade fortifies APSA's already strong standing on the global stage and enhances our city's reputation as an Asian-Pacific hub for film, arts and cultural diversity," Cr Quirk said.
"UNESCO is delighted to host this screening of Memories on Stone," said UNESCO Director-General Irina Bokova.
"In today's world, film can play a powerful role in fostering cultural diversity, and promoting mutual understanding, dialogue and peace. This is why UNESCO forged its link with APSA, which it sees as a most important cultural initiative, not just in the Asia Pacific region, but globally."
-ENDS-
Notes to Editors
UNESCO
The United Nations Educational, Scientific, and Cultural Organisation works to create the conditions for dialogue among civilizations, cultures and peoples, based upon respect for commonly shared values. It is through this dialogue that the world can achieve global visions of sustainable development encompassing observance of human rights, mutual respect and the alleviation of poverty, all of which are at the heart of UNESCO'S mission and activities.
More on the convention: http://portal.unesco.org/en/ev.php-URL_ID=31038&URL_DO=DO_TOPIC&URL_SECTION=201.html
MEMORIES ON STONE
Award winning writer/director Shawkat Amin Korki reflects the tragedy of the Al Anfal campaign against Iraqi Kurds in this stirring yet comical tale of a film crew that tries to do the impossible and shoot a movie in a war affected country.
After the fall of Saddam Hussein, childhood friends Hussein and Alan decide to make a film about this tragic chapter in the recent history of Kurdistan. The most difficult task of all it seems is finding the lead actress. Finally they find her: a young and beautiful girl, passionate about the project. But she cannot decide on her own: her cousin and her uncle control her fate. Losing precious time and money the friends decide to make huge sacrifices to complete the film.
Memories on Stone offers a poignant glimpse into the complexities of filmmaking in this region, but what is evident is the love and passion for cinema that prevails in Kurdistan, which is joyous to watch.
SHAWKAT AMIN KORKI
Born in Iraqi Kurdistan in 1973, Shawkat Amin Korki and his family fled from military oppression in 1975, living in exile in Iran for 25 years. Korki wrote, directed and produced his first film in Iraqi Kurdistan, Crossing The Dust (2006) and was nominated for the 2007 APSA for directing and won the Best Director Award at Singapore International Film Festival.
His second feature Kick Off (2009) won the Busan Film Festival New Currents Award and FIPRESCI Prize. Memories on Stone (2014) won Best Film from the Arab World at the Abu Dhabi Film Festival. Korki lives and works in Erbil.
NEGAR JAVAHERIAN
Negar Javaherian was born in 1983 in Tehran and is one of the most renowned theatre and cinema actresses of Iranian cinema. She has starred in more than 25 feature films including We Just Live Twice, Nothing, Gold and Copper, A Cube of Sugar, Here Without Me, Here Without any Reason, Tales, Painting Pool, Melbourne and the recent Berlinale Panorama FIPRESCI prize winner A Minor Leap Down are just some of her works.
She has won many prizes along with three awards from the Fajr International Film Festival, Celebration of Cinema Day and Celebration of Iranian Film Critics Association as best actress for Gold and Copper. She has also won the supporting role award for Here Without Me from the 15th Celebration of Cinema Day.
ASIA PACIFIC SCREEN AWARDS
The Asia Pacific Screen Awards, proudly presented by Treasury Casino and Hotel, is supported by Brisbane City Council and managed by economic development board Brisbane Marketing in a unique collaboration with Paris-based UNESCO and FIAPF-International Federation of Film Producers Associations, recognising and promoting cinematic excellence and cultural diversity of the world's fastest-growing film region: comprising 70 countries and areas, 4.5 billion people, and responsible for half of the world's film output. In 2014, 36 films from 21 Asia Pacific countries received award nominations.
APSA UNESCO AWARD
More information on previous winners here:
http://www.asiapacificscreenacademy.com/apsa-archive/unesco-award-winners/
2007 – The Band's Visit (BIKUR HATIZMORET) – Israel / Egypt
2008 – Tinar – Islamic Republic of Iran
2009 – SAWAN BAAN NA (AGRARIAN UTOPIA) – Thailand
2010 – BAL (HONEY) – Turkey
2011 – TOOMELAH – Australia
2012 – Warriors of the Rainbow: Seediq Bale – Taiwan
2013 – The Painting Pool – Islamic Republic of Iran
2014 – Memories on Stone (BÎRANÎNÊN LI SER KEVIRÎ) –Iraqi Kurdistan / Germany
Back to news