Wednesday, 17 October 2018
•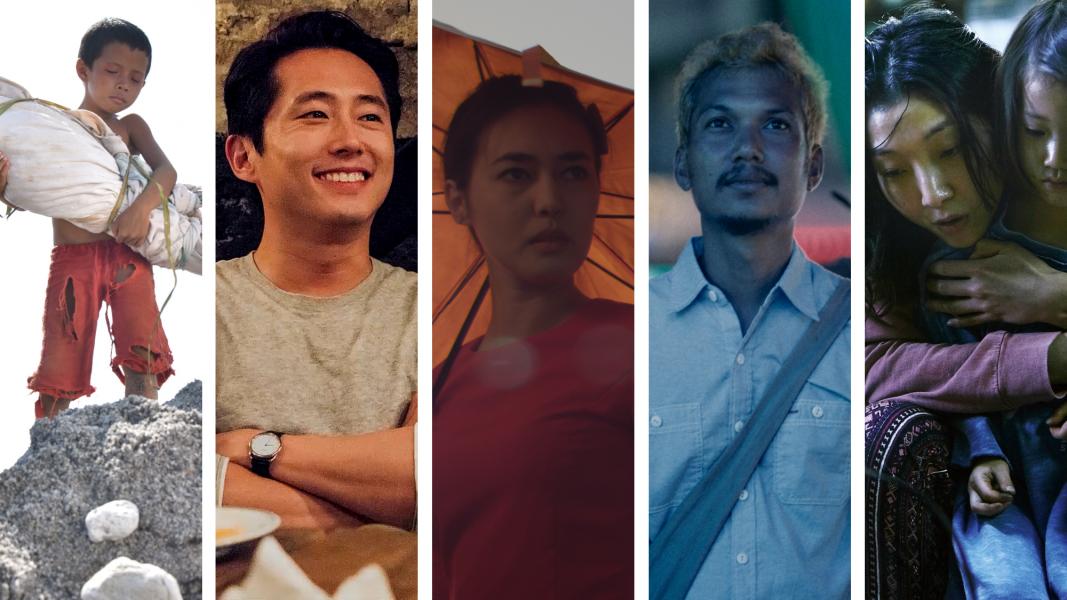 The full list of nominees for the 12th Asia Pacific Screen Awards was announced today with nominations going to a total of 46 films from 22 countries.
Films from Japan and the People's Republic of China lead the tally with 7 nominations each. Films from Australia, India and Kazakhstan each received 5 nominations and Uzbekistan has received a nomination for the first time.
Japan's Shoplifters (Manbiki Kazoku) is the only film to receive three nominations and will compete for the highly coveted Best Feature Film Award with four other twice-nominated features, Lee Chang-dong's Burning (Republic of Korea), The Gentle Indifference of the World (Laskovoe Bezrazlichie Mira, Kazakhstan, France), Balangiga: Howling Wilderness (Philippines), and Manta Ray (Kraben Rahu, Thailand, People's Republic of China, France).
Congratulations to our incredible nominees.
COMPLETE LIST OF 12th ASIA PACIFIC SCREEN AWARD NOMINATIONS
BEST FEATURE FILM
Balangiga: Howling Wilderness
Philippines
Directed by Khavn
Produced by Achinette VILLAMOR, Khavn DE LA CRUZ, Edong CANLAS
Burning
Republic of Korea
Directed by LEE Chang-dong
Produced by LEE Joon-dong, LEE Chang-dong
The Gentle Indifference of the World (Laskovoe Bezrazlichie Mira)
Kazakhstan, France
Directed by Adilkhan YERZHANOV
Produced by Serik ABISHEV, Olga KHLASHEVA
Manta Ray (Kraben Rahu)
Thailand, People's Republic of China, France
Directed by Phuttiphong AROONPHENG
Produced by Mai MEKSAWAN, Philippe AVRIL, Jakrawal NILTHAMRONG, Chatchai CHAIYON
Shoplifters (Manbiki Kazoku)
Japan
Directed by KORE-EDA Hirokazu
Produced by MATSUZAKI Kaoru, YOSE Akihiko, TAGUCHI Hijiri
BEST YOUTH FEATURE FILM
Ava
Islamic Republic of Iran, Qatar, Canada
Directed by by Sadaf FOROUGHI
Produced by Kiarash ANVARI, Sadaf FOROUGHI
Nervous Translation
Philippines
Directed by Shireen SENO
Produced by John TORRES
Passage of Life (Boku no kaeru basho)
Japan, Myanmar
Directed by Akio FUJIMOTO
Produced by Kazutaka WATANABE, Fumito YOSHIDA
The Pigeon (Güvercin)
Turkey
Directed by Banu SIVACI
Produced by Banu SIVACI, Mesut ULUTAŞ
Village Rockstars
India
Directed by Rima DAS
Produced by Rima DAS
BEST ANIMATED FEATURE FILM
Hoffmaniada
Russian Federation
Directed by Stanislav SOKOLOV
Produced by Yuliana SLASHCHEVA, Boris MASHKOVTSEV, Nikolai MAKOVSKY, Sergei STRUSOVSKY
Maquia: When the Promised Flower Blooms (Sayonara no asa ni yakusoku no hana o kazarô)
Japan
Directed by Mari OKADA
Produced by Naoko ENDO, Tomomi KYOTANI, Nobuhiro TAKENAKA, Nobuhiro KIKUCHI 
Mirai (Mirai no Mirai)
Japan
Directed by Mamoru HOSODA
Produced by Yuichiro SAITO, Takuya ITO, Yuichi Adachi, Genki KAWAMURA
On Happiness Road (Hsing Fu Lu Shang)
Taiwan
Directed by SUNG Hsin-Yin
Produced by Sylvia FENG
Rezo (Znaesh', mama, gde ya byl)
Russian Federation
Directed by Leo GABRIADZE
Produced by Timur BEKMAMBETOV
BEST DOCUMENTARY FEATURE FILM
Amal
Egypt, Lebanon, Qatar, France, Germany, Norway, Denmark
Directed by Mohamed SIAM
Produced by Myriam SASSINE, Mohamed SIAM
Gurrumul
Australia
Directed by Paul Damien WILLIAMS
Produced by Shannon SWAN
Of Fathers and Sons
Syrian Arab Republic, Lebanon, Qatar, Germany
Directed by Talal DERKI
Produced by Ansgar FRERICH, Eva KEMME, Tobias N. SIEBERT, Hans Robert EISENHAUER
Of Love & Law
Japan, United Kingdom, France
Directed by Hikaru TODA
Produced by Elhum SHAKERIFAR, Hikaru TODA
Up Down & Sideways (kho ki pa lü)
India
Directed by Anushka MEENAKSHI, Iswar SRIKUMAR
Produced by Manas MALHOTRA
ACHIEVEMENT IN DIRECTING
Nadine LABAKI for Capharnaüm
Lebanon
Bruce BERESFORD for Ladies in Black
Australia
Emir BAIGAZIN for The River (Ozen)
Kazakhstan, Norway, Poland
KORE-EDA Hirokazu for Shoplifters (Manbiki Kazoku)
Japan
Ivan AYR for Soni
India
BEST SCREENPLAY
Payman MAADI for Bomb, A Love Story (Bomb, Yek Asheghaneh)
Islamic Republic of Iran
OH Jung-mi, LEE Chang-dong for Burning
Republic of Korea
Adilkhan YERZHANOV, Roelof Jan MINNEBOO for The Gentle Indifference of the World (Laskovoe Bezrazlichie Mira)
Kazakhstan, France
KORE-EDA Hirokazu for Shoplifters (Manbiki Kazoku)
Japan
Dan KLEINMAN, Sameh ZOABI for Tel Aviv on Fire
Israel, Belgium, France, Luxembourg
ACHIEVEMENT IN CINEMATOGRAPHY
Saumyananda SAHI for Balekempa
India
Hideho URATA for A Land Imagined
Singapore, France, Netherlands
Nawarophaat RUNGPHIBOONSOPHIT for Manta Ray (Kraben Rahu)
Thailand, People's Republic of China, France
Chaiyapruek CHALERMPORNPANIT for Malila: The Farewell Flower
Thailand
ZHANG Miaoyan, XU Zhiyong for Silent Mist
People's Republic of China, France
BEST PERFORMANCE BY AN ACTRESS
ZHAO Tao for Ash is Purest White (Jiang hu er nv)
People's Republic of China, France
Samal YESLYAMOVA for Ayka
Russian Federation, Kazakhstan, People's Republic of China, Germany, Poland
Rooney MARA for Mary Magdalene
Australia, United Kingdom
Damla SÖNMEZ for Sibel
Turkey, France, Germany, Luxembourg
Laura KOROLEVA for Sveta
Kazakhstan
BEST PERFORMANCE BY AN ACTOR
Zain AL RAFEEA for Capharnaüm
Lebanon
Karim MIRKHADIYEV for Fortitude (Sabot)
Uzbekistan
Nawazuddin SIDDIQUI for Manto
India
Akylbek ABDYKALYKOV for Night Accident (Tunku Kyrsyk)
Kyrgyzstan
Bahman FARMANARA for Tale of the Sea (Hekayat-e Darya)
Islamic Republic of Iran
CULTURAL DIVERSITY AWARD UNDER THE PATRONAGE OF UNESCO
Ala Changso
People's Republic of China
Directed by Sonthar GYAL
Produced by Yungdrung GYAL
Balangiga: Howling Wilderness
Philippines
Directed by Khavn
Produced by Achinette VILLAMOR, Khavn DE LA CRUZ, Edong CANLAS
The Lord Eagle (Toyon Kyyl)
Russian Federation
Directed by Eduard NOVIKOV
Produced by Dmitrii SHADRIN
Memories of My Body (Kucumbu Tubuh Indahku)
Indonesia
Directed by Garin NUGROHO
Produced by Ifa ISFANSYAH
The Taste of Rice Flower (Mi Hua Zhi Wei)
People's Republic of China
Directed by Pengfei
Produced by Pengfei, LIU Jing, Rebecca HO
BEST ORIGINAL SCORE
Eléni KARAÏNDROU for Bomb, A Love Story (Bomb, Yek Asheghaneh)
Islamic Republic of Iran
Harry GREGSON-WILLIAMS for Breath
Australia
Hildur GUÐNADÓTTIR, Jóhann JÓHANNSSON for Mary Magdalene
Australia, United Kingdom
Ryan CAYABYAB for The Portrait (Ang Larawan)
Philippines
Omar FADEL for Yomeddine
Egypt
Back to news