Wednesday, 2 November 2016
•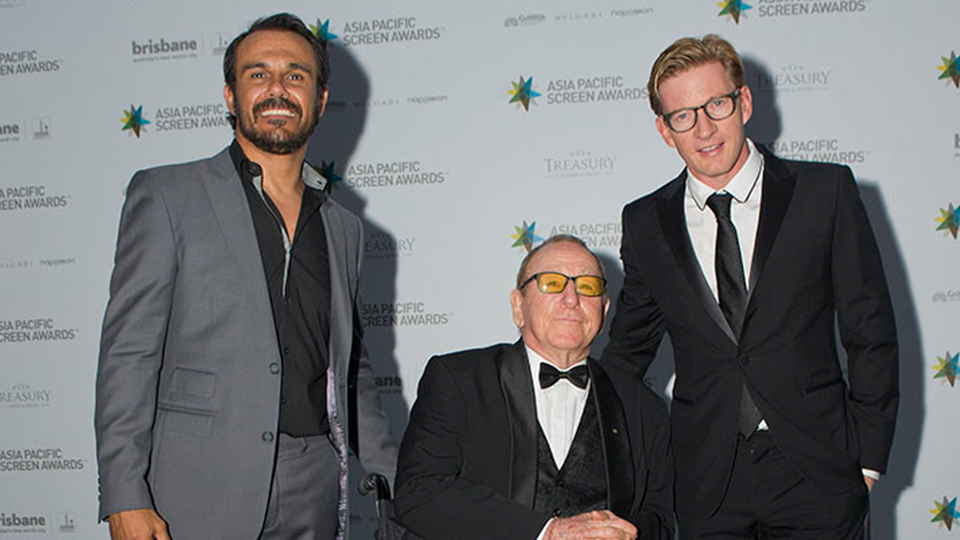 Brisbane: Lord Mayor Graham Quirk today announced the stunning line up of talent confirmed for the region's highest accolade in film, the 10th Asia Pacific Screen Awards in Brisbane this November. Celebrating ten years of cinematic excellence in Asia Pacific, the 10th event stands to be the biggest and best with a headlining and show-stopping performance by Grammy-Award winning South Korean coloratura soprano Sumi Jo. The Awards will be hosted by Australian actor and director David Wenham joined by multi-award winning journalist Anjali Rao seen most recently as a guest panelist on The Project, known for hosting SBS' Dateline and a popular face of CNN.
Cr Quirk said more than two thousand films from over fifty countries and areas of Asia Pacific have been submitted In Competition over the past decade representing the incredible cultural diversity of this region. In 2016, 39 films from 19 Asia Pacific countries and areas are nominated.
Brisbane joins cities like Cannes, Berlin and Los Angeles as the host of a major film event.
"In our case, we have purposely created awards that are exclusive to the filmmakers of Asia Pacific, the world's fast growing film region and box office. The APSA Competition has reflected the breadth and diversity of the region, with 2192 films 'In Competition' from a staggering 58 of the 70 Asia Pacific countries and areas which are encompassed by APSA's vast geographical reach.
Cr Quirk said the five countries with the highest number of films represented historically in the APSA Competition are the People's Republic of China, Republic of Korea, India, the Islamic Republic of Iran and Australia.
'In 2016 a record number of films were In Competition – more than 300 films from 43 countries and areas."
"The Asia Pacific Screen Academy, launched following the inaugural APSA, is an elite network of 1000 of the region's top filmmakers and is presided over by President Jack Thompson AM, and growing every year."
"Brisbane, Australia's New World City, recognises the vital importance of cultural and economic diplomacy, of developing mutual understanding with our regional neighbours, and of coming together to celebrate the creative diversity of our vast region. This has been the core mission of Asia Pacific Screen Awards over its ten years."
Cr Quirk also announced that the 10th APSAs, the region's highest accolade in film, would move to a new venue in 2016 to accommodate the large number of Australian and international guests converging on Brisbane, creating an Asia Pacific cultural hub for a week of screen culture events. The 10th APSA Ceremony will be held at the Australia's most awarded convention centre, the Brisbane Convention and Exhibition Centre (BCEC) on Thursday 24 November, with almost 1000 guests enjoying world-class entertainment and a three course dinner throughout the event.
"For one week in November Brisbane will become the Asia Pacific focus of filmmaking and entertainment with the 10th Asia Pacific Screen Awards, the CILECT (International Association of Film and Televisions Schools) international congress hosted by our own Griffith Film School, the 5th Asian Animation Summit, the Asia Pacific Screen Lab graduation and of course, Brisbane's own film festival, BAPFF.
"APSA, and its elite Academy will play host to 500 international guests visiting Brisbane and enjoying everything this New World City has to offer. In attracting these events to Brisbane we are realising the vision of Brisbane as the gateway to Asia, and confirming Brisbane's place in the global film community."
Cr Quirk said he is particularly thrilled that legendary South Korean superstar Sumi Jo will headline the performances on the night in addition to some surprises in store for the audience in the room, or watching the live webcast.
"David Wenham is a charismatic and dynamic speaker and a much-loved Australian personality and I am excited to see him team with the talented, acclaimed and highly respected Anjali Rao in hosting the APSAs this year. They have both presented at APSA in previous years and we look forward to welcoming them back," he said.
Cr Quirk encourages residents of Brisbane to attend the Awards Ceremony and join the gala celebration, announcing tickets would be on sale for the event.
The Asia Pacific Screen Awards, based in Brisbane, are presented by Treasury Casino & Hotel, supported by Brisbane City Council and managed by economic development board Brisbane Marketing. APSA has the privilege of a unique collaboration with Paris-based UNESCO and FIAPF-International Federation of Film Producers Associations, and recognises and promotes cinematic excellence and cultural diversity of the world's fastest growing film region: comprising 70 countries and areas, 4.5 billion people, and is responsible for half of the world's film output.
Known for her thrilling coloratura soprano voice, Sumi Jo is one of the great singers of her generation, winner of more than 20 major international awards and elected in 2013 as a UNESCO 'Artist for Peace'. Praised for the remarkable agility, precision and warmth of her voice, Sumi Jo continues to be consistently greeted with exceptional accolades, by public and press alike, for her performances in the most important opera houses and concert halls throughout the world, including the Metropolitan Opera, Opera National de Paris, Washington Opera, Deutsche Oper Berlin, and Hamburg State Opera. She has worked with such famous maestri as Sir Georg Solti, James Levine, Zubin Mehta, Herbert von Karajan, Kent Nagano and others.
Sumi performed the Academy Award® nominated Best Song Simple Song Number 3, written by David Lang which featured in Paolo Sorrentino's 2015 film Youth. She also sang the theme song, The Champions, for the Korean Broadcasting System's broadcast of the 2002 FIFA World Cup, and performed at the 2008 Beijing Olympics. Sumi's engagements in 2016-17 and beyond include concerts in Canberra, Sydney and Melbourne, a solo gala concert tour of Asia, performing with the Hong Kong Philharmonic, Guangzhou Symphony Orchestra, China Philharmonic and Sjhanghai Symphony, a charity recital at the Cultural Center of the Philippines, a tour with the Orchestre National du Capitole de Toulouse, and recitals in Clermont-Ferrand and Montreal. Sumi will join the distinguished jury for the Cardiff Singer of the World 2017 competition.
One of Australia's most respected actors, David Wenham has received critical acclaim for his diverse performances in film, theatre and television. His film credits include Baz Luhrmann's Moulin Rouge! and Australia, The Lord of the Rings: The Two Towers and Return of the King, The Proposition, 300, Oranges and Sunshine and recently Ivan Sen's Goldstone and Garth Davis' Lion. David is well-known for roles in SeaChange, Top of the Lake and has just been cast in the Marvel/Netflix seriesIron Fist. His work has been honoured with Awards and multiple nominations from the AFI, the Screen Actors Guild, IF Awards, Logies and Film Critics Circle of Australia. David attended the 7th Asia Pacific Screen Awards as one of seventeen directors who created the chapters of Australian anthology film The Turning, nominated for the Best Feature Film APSA.
Anjali Rao is a multi-award winning journalist, who has spent 17 years in the top tiers of broadcast news and current affairs. She most recently served as host of the acclaimed SBS current affairs program Dateline from 2013 to 2014. For six years, she worked at CNN International, hosting the weekday breakfast program as well as the network's weekly chat show, Talk Asia, both of which air globally to 220 million households. Earlier, Anjali worked as an anchor at both Sky News and Channel 5 News in London. During her career Anjali has interviewed some of the world's highest profile personalities including former US President Bill Clinton, the Dalai Lama, tennis star Roger Federer, and fashion icon Karl Lagerfeld. She has also covered numerous breaking news events such as the 9/11 attacks, the 2004 Asian tsunami, the death of Pope John Paul II, the 7/7 bombings in London, the 2008 siege of Mumbai, and the 2011 earthquake and tsunami disaster in Japan. Born to an Indian father and Australian mother, Anjali was raised in Hong Kong, educated in the United Kingdom, but is now based in Australia. Locally, she has appeared as a panellist on Channel Ten's The Project and Studio 10 and also as guest host on Sydney's 2UE radio station and Triple M Melbourne.
APSA and its Academy is committed to its ongoing partnerships with UNESCO, FIAPF, the European Film Academy (EFA), the Motion Picture Association (MPA), NETPAC (the Network for the Promotion of Asian Cinema), the Asia Pacific Screen Lab (APSL) and Griffith Film School.
The International Jury for the 10th Asia Pacific Screen Awards (APSA) will consist of five eminent former APSA Jury Presidents from three continents and be headed by acclaimed filmmaker, Academy-Award® winner Lord David Puttnam(United Kingdom, APSA 2010 Jury President), producer of Chariots of Fire and the Killing Fields, joined by APSA Patron and co-founder and current Chairman of the Busan International Film Festival Kim Dong-Ho, prolific and multi-award winning producer from Hong Kong (PRC) Nansun Shi (The Taking of Tiger Mountain; APSA 2011), Palme d'Or and Oscar®-winning Australian producer Jan Chapman (The Piano; APSA 2012), and celebrated Indian master filmmaker Shyam Benegal (APSA 2013).
Brisbane Convention and Exhibition Centre (BCEC) is Australia's most awarded convention centre, with 156 industry awards including 64 catering awards. Located in the heart of Brisbane in the riverside convention and cultural riverside precinct at South Bank, BCEC was named Worldwide Convention Centre Team of the Year – C&IT Excellence Award 2012, and Winner of MEA 2014 National Awards for Meeting Venue – 500 Delegates or More, and Association or Government Meeting of the Year for the 'best ever' 2014 G20 Leaders Summit.
Brisbane, Asia Pacific hub for screen culture – key dates:
10th Asia Pacific Screen Awards: Thursday 24 November, 2016
3rd BAPFF – Brisbane Asia Pacific Film Festival: 23 November – 4 December 2016
2016 CILECT Congress (International Association of Film and Television Schools): 20-24 November 2016
5th Asian Animation Summit: 22-24 November, 2016
2nd Asia Pacific Screen Lab graduation: 25 November, 2016
BUY TICKETS TO ATTEND 10th APSA CEREMONY HERE:
http://tix.brisbaneasiapacificfilmfestival.com/session.asp?sn=10th+Asia+Pacific+Screen+Awards+-+2016&s=23
IMAGES FOR MEDIA: https://www.dropbox.com/sh/e55rqotkio5sdlk/AADcT4U3xZRKYXeTFsxHoPz5a?dl=0
Back to news