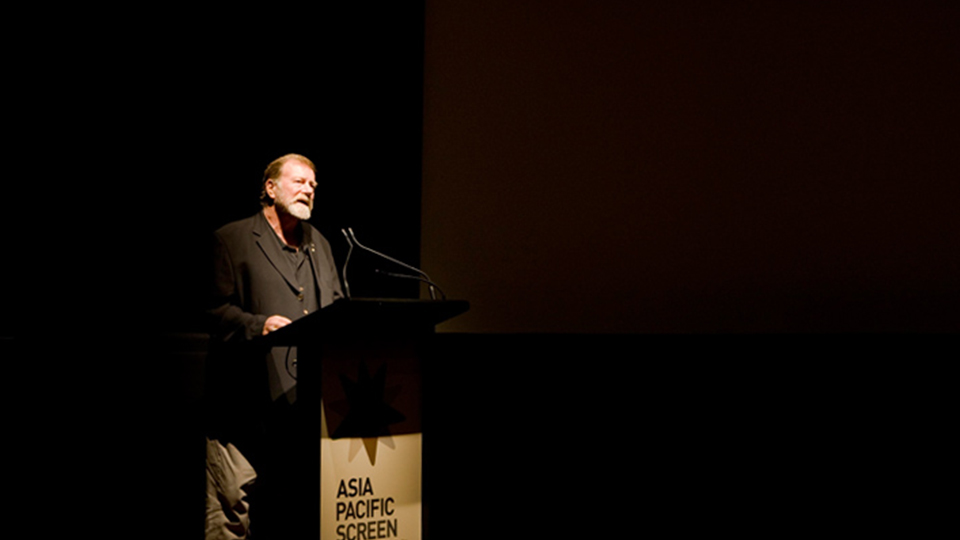 The Asia Pacific Screen Awards is to have its own Academy with Australian screen legend Jack Thompson AM as its Patron.
The Asia Pacific Screen Awards (APSAs) are held in collaboration with UNESCO, FIAPF – International Federation of Film Producers Associations and CNN International. The Awards acclaim the cinematic excellence of Asia-Pacific films that best reflect their cultural origins.
"One of the significant aims of the Asia Pacific Screen Awards is to promote the films and filmmakers of the Asia-Pacific region to a global market and to develop new markets for their work," said APSA Chairman Des Power.
"The Academy of the Asia Pacific Screen Awards is the next step in encouraging dialogue, collaboration and business opportunities for the region's filmmakers."
All 65 nominees of the inaugural 2007 APSAs will now be inducted into The Academy, with a similar number from 2008 to be inducted later this year, establishing a world-class body of Asia-Pacific filmmakers.  In time to come, Academy members will have a voting influence on the Awards.
More than 110 films from 29 countries in the region were submitted in 2007 APSAs.
"The APSAs bring the best filmmakers from the region together. The Academy will encourage these relationships to continue and it is my hope that co-productions and other initiatives between the 72 countries and areas that form the APSA network will result. Jack Thompson's international standing in the film community lends tremendous weight to The Academy and we are honoured to have him as Patron," Mr Power said.
2007 winners and nominees to be inducted into the Academy:
Best Feature Film
Winner – SECRET SUNSHINE (MIRYANG) (Republic of Korea)
Produced by Kim In-soo, Lee Chang-dong and Hanna Lee
CARAMEL (Lebanon / France)
Produced by Anne Dominique Toussaint, Hadeel Kamel and Raphael Berdugo
NIGHT BUS (AUTOBUS-E SHAB) (Iran)
Produced by Mehdi Homayounfar
OPERA JAWA (Indonesia)
Produced by Garin Nugroho, Keith Griffiths and Simon Field
TAKVA: A MAN'S FEAR OF GOD (Turkey / Germany)
Produced by Sevil Demirci Cakar, Klaus Maeck, Fatih Akin
Best Animated Feature Film
Winner – 5 CENTIMETERS PER SECOND (BYOSOKU 5 CENTIMETERS) (Japan)
Produced by Noritaka Kawaguchi
THE BIG FIGHTING BETWEEN WUKONG AND GOD ERLANG (WUKONG DA ZHAN ER LANG SHEN) (People's Republic of China)
Produced by Hansen Liang and Zhou Meiling
SUMMER DAYS WITH COO (KAPPA NO COO TO NATSUYASUMI) (Japan)
Produced by Yutaka Sugiyama
Best Documentary Feature Film
Winner – BEIRUT DIARIES: TRUTH, LIES AND VIDEOS (YAOUMIYAT BEIRUT: HAKAEK WA AKATHEEB) (Lebanon)
Produced by Mai Masri and Jean Chamoun
A GREAT MASTER RECAPTURED (YOU JIAN MEI LAN FANG) (People's Republic of China)
Produced by Gao Feng
THE LOST LAND (SARZAMINE GOMSHODEH) (Iran)
Produced by Vahid Mousaine Simani
A STORY OF PEOPLE IN WAR AND PEACE (Armenia)
Produced by Vardan Hovhannisyan
VILLAGE PEOPLE RADIO SHOW (APA KHABAR ORANG KAMPUNG) (Malaysia)
Produced by Tan Chui Mui and Amir Muhammad
Best Children's Feature Film
Winner – DENIAS, SINGING ON THE CLOUD  (DENIAS, SENANDUNG DI ATAS AWAN) (Indonesia)
Produced by Ari Sihasale
THE BICYCLE (GULONG) (Philippines)
Produced by Menardo Jimenez and Socorro Fernandez
LOCKSMITH (GHOFL-SAZ) (Iran)
Produced by Hassan Agha-Karimi
MOTHER NANNY (INANG YAYA) (Philippines)
Produced by Antonio Gloria
MUKHSIN (Malaysia)
Produced by Puad Onah and Rosnah Kassim
Achievement in Directing
Winner – Rakhshan Bani-Etemad and Mohsen Abdolvahab for MAINLINE (KHOONBAZI) (Iran)
Nadine Labaki for CARAMEL (Lebanon / France)
Shawkat Amin Korki for CROSSING THE DUST (PARINAWA LA GHOBAR) (Iraq/Kurdistan)
Peng Tao for LITTLE MOTH (XUE CHAN) (People's Republic of China)
Zhanna Issabayeva for KAROY (Kazakhstan)
Best Screenplay
Winner – Lee Chang-dong for SECRET SUNSHINE (MIRYANG) (Republic of Korea)
Feroz Abbas Khan for GANDHI, MY FATHER (India)
Michael James Rowland and Helen Barnes for LUCKY MILES (Australia)
Kiumars Pourahmad and Habib Ahmadzadeh for NIGHT BUS (AUTOBUS-E SHAB) (Iran)
Onder Cakar for TAKVA: A MAN'S FEAR OF GOD (Turkey / Germany)
Achievement in Cinematography
Winner – Hooman Behmanesh for THOSE THREE (AN SEH) (Iran)
Wang Yu for THE GO MASTER (WU QINGYUAN) (People's Republic of China)
Sergey Trofimov for MONGOL (Russian Federation)
Palitha Perera for SANKARA (Sri Lanka)
Fei Zhao , Mark Ping-bin Lee and Tao Yang for THE SUN ALSO RISES (People's Republic of China)
Best Performance by an Actress
Winner – Jeon Do-yeon in SECRET SUNSHINE (MIRYANG) (Republic of Korea)
Nadine Labaki, Yasmine Al Masri, Joanna Moukarzel, Gisele Aouad, Siham Haddad & Aziza Semaan in CARAMEL (Lebanon / France)
Hanan Turk in CUT AND PASTE (KAS WA LAZK) (Egypt)
Joan Chen in THE HOME SONG STORIES (Australia)
Baran Kosari in MAINLINE (KHOONBAZI) (Iran)
Best Performance by an Actor
Winner – Erkan Can in TAKVA: A MAN'S FEAR OF GOD (Turkey / Germany)
Sasson Gabai in THE BAND'S VISIT (BIKUR HATIZMORET) (Israel)
Evgeniy Antropov in HARD-HEARTED (KREMEN) (Russian Federation)
Ryu Deok-hwan in LIKE A VIRGIN (CHEON HA JANG SA MADONNA) (Republic of Korea)
Mehrdad Seddiqian in NIGHT BUS (AUTOBUS-E SHAB) (Iran)
FIAPF Award for Outstanding Achievement in film in the Asia-Pacific region
UNESCO Award for Outstanding contribution to the Promotion and Preservation of Cultural Diversity through Film:
The Band's Visit (Israel)
Eilon Ratzkovsky (Producer)
Ehud Bleiberg (Producer)
Eran Kolirin (Director)
Jury Grand Prize:
Kiumars Pourahmad, Director of NIGHT BUS (AUTO BUS-E SHAB)
Back to news