Friday, 26 November 2010
•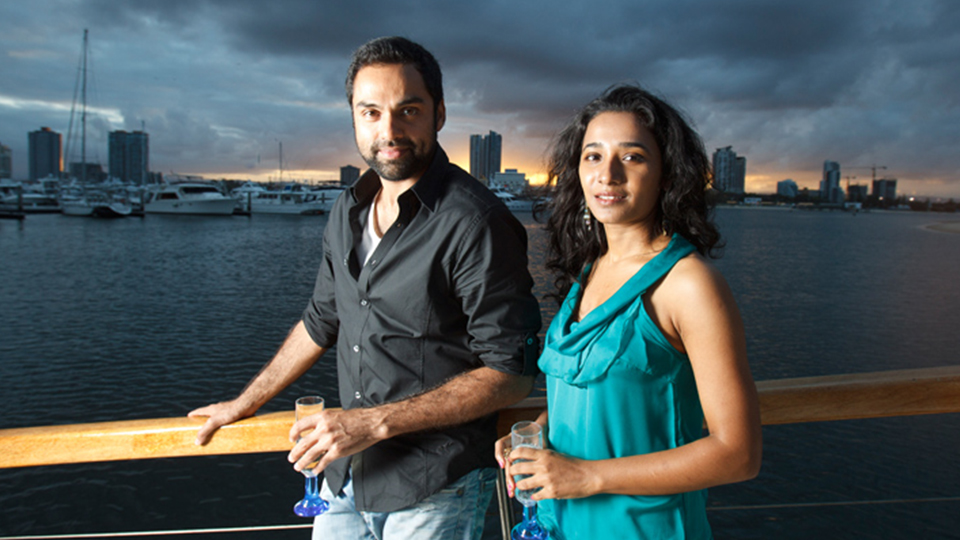 Actors, actresses, filmmakers and special guests have begun arriving on the Gold Coast, Queensland, Australia, for the fourth annual Asia Pacific Screen Awards (APSA) to be presented on Thursday December 2. 31 films from 15 countries and territories have been nominated in this year's APSAs, the region's highest accolade in film.
Nominees or their representatives from all 15 countries and areas are travelling to the Gold Coast to attend the Awards Ceremony, including Best Performance by an Actor nominees Australia's Tony Barry, and Indian star Atul Kulkarni, and Best Actress nominees Tejaswini Pandit from India and China's Xu Fan, star of Aftershock¸ the highest grossing Chinese film ever in China and nominated for a record six APSAs.
Atul Kulkarni, who has won two National Awards in India and has superstar status in the Indian Marathi film industry, is currently in Queensland filming Roland Joffé's new film Singularity.
The star of the New Zealand hit film Boy, James Rolleston, will also attend the Awards.  Boy is nominated for Best Children's Feature Film.
Nominees across all Asia Pacific Screen Award categories will be attending, including the directors and producers of the Best Feature Film nominees Aftershock and Honey, winner of the Berlin Film Festival's Golden Bear for Best Film. Aftershock will be represented by director Feng Xiaogang and producer Wang Zhongjun, from China. Honey will be represented by director/producer Semih Kaplanoglu, from Turkey, and nominated cinematographer Baris Özbiçer.
Other nominees confirmed to attend include Israeli screenwriter Nir Bergman nominated for Best Screenplay for Intimate Grammar and Japanese screenwriter Hisako Kurosawa nominated for Caterpillar.
Korean producer, Lee Joon-dong, will represent Poetry, nominated for Best Feature Film, Achievement in Directing, Best Screenplay and Best Performance by an Actress, directed by his brother renowned writer/director Lee Chang-dong. Lee Joon-dong previously produced 2009 APSA Winner A Brand New Life.
The producer of Best Feature film nominee Paju, Kim Ju-kyung, from Korea will also attend the Awards Ceremony.
Boy, a box office hit this year in its home country New Zealand and in Australia, will also be represented by nominated producer Ainsley Gardiner. Producers Robyn Kershaw and Graeme Isaac will represent Australia's Bran Nue Dae, producer Mohammad Ali Najafi and associate producer Shafi Agha Mohammadian, from Iran, will represent Digari, Indian producer Sanjay Singh will represent Udaan and Hong Kong director Alex Law will represent Echoes of the Rainbow, all nominated in the Best Children's Feature Film category.
Nominated producers in the Best Animated Feature Film category attending the Awards are Zareh Nalbandian, Australia, for Legend of the Guardians: The Owls of Ga'Hoole,
Yasumasa Tsuchiya, Japan, for King of Thorn, Mitsuhisa Ishikawa, Japan, for Oblivion Island: Haruka and the Magic Mirror, and Lynne Wang, China, for Piercing I. Piercing I writer and director Liu Jian is also attending the Awards.
Best Documentary Feature Film nominees arriving on the Gold Coast this week are co-producer of Chinese documentary Last Train Home, Bob Moore, Chinese producer of Karamay, Zhu Rikun, and Darius Fisher, co-producer of Budrus, a Palestinian Territories, Israel and US co-production.
Also attending is Achievement in Cinematography nominee V. Manikandan, India, for Raavan.
Indonesia's Christine Hakim, one of the most experienced and respected figures in the South East Asian film industry, will attend the Awards as the recipient of the APSA 2010 FIAPF Award for Outstanding Achievement in Film.
Already on the Gold Coast is the 2010 APSA International Jury who has commenced its deliberations.  President of the International Jury is Lord David Puttnam, Academy Award winner and producer of Chariots of Fire, The Mission and The Killing Fields. Other Jury members are Indian actress and star of Road, Movie and Brick Lane, Tannishtha Chatterjee; multi-award winning Indonesian writer, producer and director, Salman Aristo, who wrote the screenplay for Laskar Pelangi(Rainbow Troops, 2008) which holds the record for the highest box office in Indonesian film history; Ming Zhenjiang – producer and First Deputy President of the China Film Producers Association, FIAPF's official representative in the People's Republic of China; acclaimed Australian cinematographer Ellery Ryan whose credits include such Australian classics as Angel Baby and Spotswood; Kazakh writer/director Sergey Dvortsevoy whose film Tulpan won the APSA Best Feature Film Award in 2008 and the Prix Un Certain Regard at the Cannes International Film Festival in the same year; and Turkish filmmaker and film academic Serdar Akar whose many awarded films include Valley of the Wolves: Iraq, which became the highest grossing Turkish film of all time.
APSA has also announced that Ma Xiaohui, Erhu virtuoso and composer, internationally renowned for her duet with the famous cellist Yo-Yo Ma for the Academy Award winning soundtrack for the film Crouching Tiger, Hidden Dragon, will perform at the Awards ceremony. Ma Xiaohui will travel to Queensland with the generous support of the Australian Centre of Chinese Culture and Arts.  She will be joined on stage by Queensland's Southern Cross Soloists.
Presenters of the Awards ceremony are Australian broadcaster Indira Naidoo and China's Chen Lei, the leading presenter of China's International Channel Shanghai (ICS).
In 2010, nine awards will be presented for the following achievements:
1. Best Feature Film
2. Best Animated Feature Film
3. Best Documentary Feature Film
4. Best Children's Feature Film
5. Achievement in Directing
6. Best Screenplay
7. Achievement in Cinematography
8. Best Performance by an Actress
9. Best Performance by an Actor
In addition, three major awards will be presented for outstanding achievement.
1. FIAPF Award
The FIAPF – International Federation of Film Producers Associations will determine the winner of the award for outstanding achievement in film in the Asia-Pacific region.
2. UNESCO Award*
The United Nations Educational, Scientific, and Cultural Organization (UNESCO) Award for outstanding contribution to the promotion and preservation of cultural diversity through film.
3. Jury Grand Prize*
The Jury can, at its discretion, present a further award – the Jury Grand Prize.
*Nominees and nominated films from all award categories are eligible for these prizes to be decided by the APSA Jury.
Back to news